Whirlpool refrigerators
The Whirlpool refrigerator is designed to use the Total No Frost system. The presence of such a system contributes to ventilation. Defrosting cannot take place due to the decrease in the humidity level provided in the refrigerator. Therefore, ice does not form in the refrigerator during operation. In order for the temperature in all places of the refrigerator to be uniform and optimal, the Multiflow system is provided. You can also store food such as fish and meat in the refrigerator compartment. At the same time, they will retain their freshness for a long time. This compartment is supplied with a lower temperature, and also has a lower humidity. The humidity in the refrigerator compartment can be adjusted in such a way that it is optimal for both fruit and vegetable storage. To store fresh herbs, automatic humidity control is provided.
The refrigerator has an additional Space Plus shelf. It can be turned down. In this case, there will immediately be enough space for storing five bottles. If you need to create more space for products, then it can generally be raised. As for all the other shelves in the Whirlpool refrigerator, they can be adjusted as needed. For fruits and vegetables in the refrigerator, a shelf is provided, in which the partition is adjustable. The volume of this box is 32 liters. The slippery divider in this drawer will help you adjust the space for different fruits and delicate foods.
Whirlpool 2-door refrigerators have a cube-shaped ice system. This is Easy Cube. The container is provided in such a way that not a single drop of water can spill out of it. Due to the fact that the container has a closed type, the ice will not absorb foreign odors. In the event that not all drawers and shelves are filled in the freezer, the system automatically switches to those shelves where food is placed. This results in energy savings.
For better air circulation, a fan is provided in the refrigerator compartment. All refrigerator shelves are made of tempered glass. Even if it happens that some products leak, the liquid will not get on those products that are located below. Side-by-Side refrigerators always have cold water and ice available. At the same time, before being cooled, the water is purified, which relieves it of all impurities.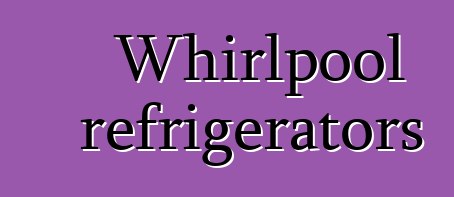 Home | Articles

December 6, 2023 00:19:00 +0200 GMT
0.006 sec.