Small refrigerators for small spaces
This article is for owners of small kitchens and those who pick up a small refrigerator. This topic is relevant for many of us, since the dimensions of most standard kitchens leave much to be desired.
If you delve into the topic of refrigerators for small-sized kitchens in more detail, then you should stop your attention on narrow refrigerators, which at the same time remain quite roomy and of high quality. And besides, it is relatively inexpensive. There are refrigerators only 48 cm wide! Such models are most suitable for small families. The volume of the chamber in such a refrigerator is from 102 to 185 liters. Most often in modern refrigerators, the defrosting system is automatic (drip system). Tempered reinforced glass shelves are usually height adjustable. Not bad if the shelves are protected by a plastic edging, which will protect you from accidentally spilled liquid. In the lower part, there is most often a container for fruits and vegetables. On the doors of such refrigerators, shelves-balconies should be adjustable in height. The doors can be reversible (they have the ability to change the direction of opening). The standard maintained temperature is 0-12?С, which is regulated by a thermostat (electromechanically). Additionally, small-sized refrigerators are also equipped with an egg tray and a bottle holder. The freezer in such refrigerators is small (25 l), maybe 48 l in some models. Freezing capacity up to 3 kg per day. The defrosting system is manual, the maintained minimum temperature is -12-18?С. In the event of a power outage, the temperature will remain for another 15 hours. Small-sized refrigerators are usually single-compressor.
In the market of domestic small-sized refrigerators, full-functional ones (with a freezer) and without it can be distinguished; single and double chamber. An additional feature is the antibacterial coating of the walls.
If your kitchen is not so small, and you can afford a refrigerator with a width of 54 cm, then your choice becomes wider.
Small refrigerators are a very big find for small kitchens.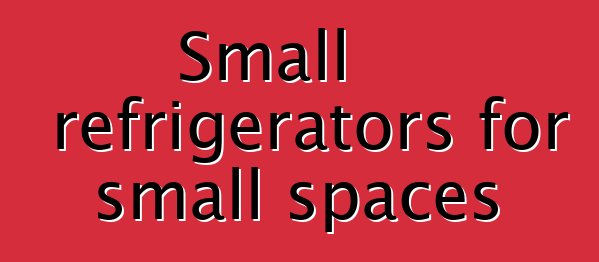 Home | Articles

June 2, 2023 04:08:37 +0300 GMT
0.007 sec.