About choosing a robotic vacuum cleaner
Admit it: you most likely liked the tale of the pike and Emel, who was lying on the stove while all the homework was done without his participation. Coming home after a hard day's work, I absolutely do not want to do housework: how can one not remember the fairy tale in which all things were done automatically. But that's what it is and the age of high technology, to make a fairy tale come true ... at least part of it. Robotic vacuum cleaners can just do what you can to help keep your home clean and tidy. These amazing machines drive around your house on their own, vacuuming floors and carpets, and then they themselves shake out the garbage and recharge themselves! But in order for such a useful assistant to appear in your home, you first need to buy it. And this is where problems can arise, since even consultants in retail chains are sometimes unfamiliar even with the principles of his choice. To fill in the gaps in knowledge, we advise you to familiarize yourself with the materials from our article ...
We note right away that this invention is not suitable for everyone. It is impossible to hope that this device will fully take over the functions of restoring order in the apartment. It can only help keep things clean. If you are not a fan of perfect order, where all things are in their places, and there is not a single wire or scattered things on the floor, this invention is not for you.
Technical equipment of the robot
Simply put, what gadgets, brushes, sensors the device has. For high-quality cleaning, he needs to have at least three brushes: the main one, with which dust and very small debris are sucked in, a brush or even two for large debris, and a side brush for cleaning skirting boards and corners of the room.
Very important are those devices of the robot that are responsible not for cleaning, but for its movement in space. Standard are IR sensors, which are equipped with almost all such devices. They allow the robot to go around obstacles on the way. Some, more advanced models are also equipped with sensors that determine the location of contamination and direct movement to such a place.
List of work programs
Different models have different programs for cleaning the house, such as carpet cleaning, wood cleaning, tile cleaning, long pile carpet cleaning. Naturally, the more options the device has, the more useful and functional assistant it will become.
Battery capacity
Standard cleaning in the apartment will take the robot vacuum cleaner about 2 hours. However, not all battery models have enough for this time, you will have to constantly monitor the device: did it stop in the midst of cleaning.
Programming capability
Some models have the ability to program the start of cleaning at a certain time - this can be useful if you are rarely at home or you need to have time to put the apartment in order for the arrival of guests or an important event.
Manufacturer
Today, there are not so many companies that make robotic vacuum cleaners, especially compared to manufacturers of other household appliances. One of the most famous and reliable brands is the American company iRobot. Also active market participants are Chinese and Korean manufacturers, but their models for the most part turn out to be copies of American devices. Naturally, robots of different brands differ significantly in price.
The choice of one or another model of a robot vacuum cleaner should be based on your needs and financial capabilities. Today, these devices are very expensive, and buying them for fun, as an interesting toy, is not worth it. Think about what you really need it for, then the choice will be easier to make.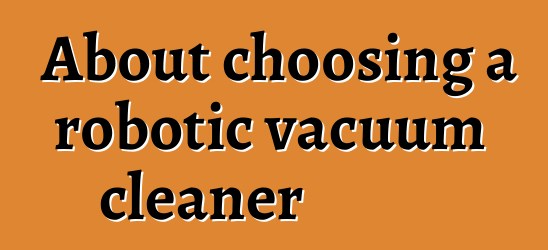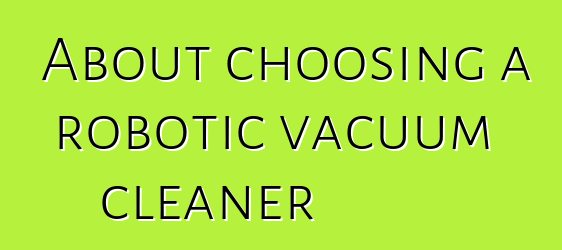 Home | Articles

June 2, 2023 05:12:51 +0300 GMT
0.007 sec.