Narrow washing machine for a small bathroom
In Russia, the demand for washing machines has increased; they have already ceased to be a luxury item. But the demand is sufficiently increased for narrow-type machines. This is due to the small size of bathrooms and kitchens. After all, not everyone has the opportunity to have a spacious bathroom to accommodate a large car and a shower drain.
Considering one more factor, that it is Bosch washing machines that are narrow and are in demand mainly in Russia, the company decided to produce them here. Thus, time is saved for the delivery of finished products directly to the consumer, and it also becomes possible to significantly reduce their cost due to the same delivery, as well as customs costs.
That is why narrow Bosch washing machines are now able to respond faster to market demand in Russia. After all, it has been a year since a special line for their production was opened near St. Petersburg.
Since the past, a special edition of Bosch washing machines of the narrow type "Classixx 5" has been planned: WLF 20171 CE, WLF 20271 CE and WLF 24271 CE. Their manufacturer was brought as close as possible to the needs of the Russians. This is dictated by a great desire to conquer this niche in the washing machine market, as well as the ability to provide at the best price such models that can satisfy our consumer.
These models have certain parameters that Russians should like. For example, the Super Fast 30 program will help any housewife do the laundry in a matter of half an hour, so that you can use the Bosch narrow-type washing machine further. This is a very relevant function if it is not possible to wash every day, because many housewives can still afford to arrange a big wash only once a week. Previously, this feature was available only in expensive models.
In addition, frequent, but short washing allows you to save on electricity and washing powder, allowing you to always keep your laundry in perfect cleanliness. The new models also have a larger load capacity, which has been increased from 3 to 5 kg. This also saves time on laundry. It also allows you to wash larger items in a narrow-type Bosch washing machine.
The spin speed in Bosch narrow-type washing machines has been increased to 1000-1200 rpm. Almost all models have a display and Bosch electronics will make washing quick and enjoyable, because the machines are easy to operate. There are functions like "extra rinse", timer, etc.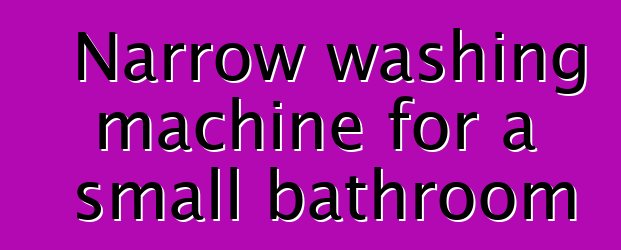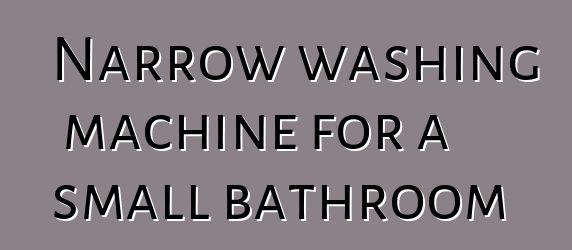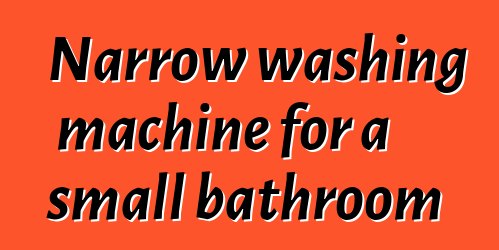 Home | Articles

December 4, 2023 18:55:24 +0200 GMT
0.007 sec.