Sharp LCD TVs Compared to Other Manufacturers
Following the triumphant entry of stereoscopic technology into the home cinema market, there has come a time for some silence and a likely reassessment of its place. But let's be honest and note that the advent of 3D has led to a major jump in quality in the television markets. The developers began to pay more attention to high-quality images, especially scenes rich in motion, because they actually show the largest number of artifacts when watching 3D movies.
Also, the LCD matrix itself did not stand aside. In this test review, we are going to present you the new Sharp LC-40LE830RU 3D LCD TV.
When developing this model of LCD TV, the designers decided to keep the traditional appearance of the case. The classic silhouette of the novelty is executed in a strict color scheme of black lacquer. A small frame around the LCD matrix of just 1 inch visually expands the display limits, allowing the characters of the film to get into the hall. In addition to good picture quality, Sharp's 3D LCD TV also has very advanced multimedia capabilities.
Expertise
The settings menu of the Sharp LCD TV is made in the well-known corporate style. Navigation is convenient and simple, GUI localization without errors.
The good quality of the device's factory settings allows it to freely display pictures without additional adjustments.
Visibility with excellent brightness and true color reproduction. Even with shutter glasses, the brightness of the image is quite optimal, the texture is clearly worked out, thanks to which the picture becomes very voluminous and realistic.
Even with a typical LCD TV resolution, the video sequence looks very impressive. Pure and deep blacks in the screen are in perfect harmony with the great detail and textured backs. Displaying dynamic scenes in terms of quality without pretensions, there is nothing to cling to even in a fast-moving panorama.
If you switch to HD format, the picture will add details, and clarity to the back, which will add additional volume to the video sequence. The processor will do a great job of translating videos into stereoscopic format, and the film will become even more spectacular.
The sound path in 3D mode works perfectly, by adjusting the settings you get a very good sound with great authenticity of the events taking place on the screen. The built-in subwoofer displays sounds quite adequately.
With the work of the LCD TV Sharp copes with five plus. Visibility on the screen looks almost perfect.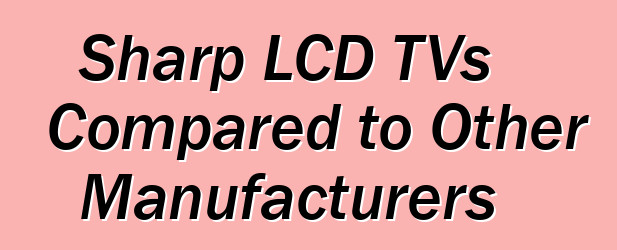 Home | Articles

September 27, 2023 20:29:28 +0300 GMT
0.007 sec.