How to choose a tablet computer?
Personal computers, laptops, cell phones - all these devices made a splash with their appearance, as they forever changed the idea of a person about modern technology and its capabilities. But all this pales before the recently appeared tablets, which finally captivated all the dreams and thoughts of lovers of modern gadgets. Until recently, there were no more than a couple of dozen tablet models, while today there are more than one thousand of them. In such a variety, it is not surprising to get confused even by an experienced technical specialist, not to mention a simple buyer. So what to look for when buying a tablet? If you want to know this, then you should read this article!
Tablet computers include:
E-books, this tablet is gaining an increasing audience. The benefits of an e-book are many. Compared to ordinary books, it takes up little space, it has a very large memory, many e-books have a player function. It is very suitable for people who study foreign languages. Now let's talk a little about the technical characteristics. Many people think that the screen of an e-book should be large, but this is not entirely true. The main thing is a good screen resolution. For more comfortable reading, the diagonal should be 5.6 inches, and the resolution should be 320 * 460 pixels. Also, when choosing an e-book, pay attention to the screen cover; it should be anti-glare and have a good viewing angle. When choosing a book, be sure to hold it in your hands, turn it on, see if it is convenient for you to read it, look at the settings, whether everything suits you. Do not chase brands, they often overprice, this also applies to Russian stores. Prices range from 1800 to 15000 rubles.
A tablet personal computer is one of the varieties of touch screen laptops, such tablets have full compatibility with IBM PC computers and a complete operating system. Mostly Windows, Linux, Apple Mac OS X systems are used as OS, suitable for people who always want to stay in touch and keep up to date. The diagonal is from 6 to 11.6 inches. Processor frequency from 1 GHz to 800 MHz, RAM from 1 GB to 512 MB, permanent memory 4 GB - 64 GB, 3G modem may be built-in or absent. When buying a tablet personal computer, be sure to familiarize yourself with it a little in the store: support it in your hands, turn it on, go to the settings.
The Internet tablet combines the qualities of a laptop and a smartphone, they can be constantly connected to the Internet via 3G and Wi-Fi systems, it is very convenient to use it to view all kinds of sites and pages, the touch screen allows you to control the tablet with just one touch of your finger. The difference between an Internet tablet and a tablet PC: firstly, this is the cost, it ranges from 4,500 to 15,000 rubles; second, wireless internet; thirdly, it works for a very long time without recharging; it is not subject to hacker attacks.
How to choose a tablet?
There are 2 types of screen technology: resistive and capacitive.
A resistive display is a screen consisting of a liquid crystal panel. Two transparent plates are superimposed on top of it, they are separated from each other by a dielectric. The advantages of such a screen are: cheapness compared to other materials, high screen sensitivity and the ability to control the screen with any object.
Disadvantages of the technology: insufficient light transmission, as a result of which you will need to use additional illumination, and such screens also wear out quickly.
Capacitive display - a touch screen, a glass panel on which a resistive material is applied in a thin layer. Electrodes are installed at the corners of the panel, supplying a low-voltage alternating voltage to the conductive layer.
The disadvantage of such a screen is that it will need to buy a special stylus.
Pay special attention to Chinese manufacturers, they have very good and high-quality models, although they have one small drawback. In many models, the sound key sinks, sometimes the sound itself fails, but if you listen through headphones, you can hear everything well, as for the picture quality, it is just excellent. And one more little trick of the "Chinese", in order to deal with the instructions you will have to study the Internet, since there is not a word in Russian in the attached instructions.
And one more piece of advice, before buying a tablet, go to several stores, talk to the sellers, let them explain everything to you in detail, tell and show you. And most importantly, take a walk around the Internet, here you can not only find all the information you are interested in (with both positive and negative reviews), but also purchase a tablet at a lower price. Happy shopping.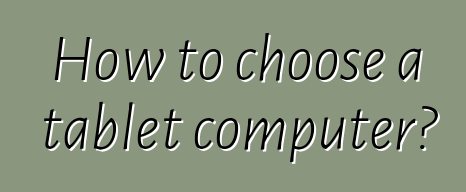 Home | Articles

September 22, 2023 17:28:34 +0300 GMT
0.007 sec.