The purpose of the freezer
A freezer is a place where frozen food can be stored even for a short time. Professionals believe that a freezer should be able not only to freeze quickly, but also to store frozen food for a long time. If there are four stars on the freezer, then it meets these parameters. In the event that the freezer can only store frozen food, but it is impossible to freeze, such a freezer should have three stars. At the same time, its temperature cannot be higher than -18 degrees. In order to preserve vitamins and nutrients in frozen foods, rapid freezing is necessary. The lower the overall temperature in the chamber, the faster the food to be frozen will freeze. The fast cooling mode provides a decrease in temperature by six degrees for fast freezing. As soon as this mode is turned on, the indicator informs about this by turning on the red light.
If the freezer provides for natural freezing, then the temperature in the chamber should not be higher than -24 degrees. But there are also such models of freezers, the temperature of which is -32 degrees. This mode can also be attributed to superfreezing. Rapid cooling prevents the formation of ice pieces in the product. Otherwise, during defrosting, all juices will be lost through such damage. The taste qualities of such products have rather low characteristics.
Experts believe that it is best to store frozen foods at a temperature of -18. Meat can be stored at this temperature for 12 months. If the temperature in the freezer is -12 degrees, then vegetables and meat can be stored in it for three months. And only two weeks can be stored in the freezer at a temperature of -6 degrees. In the event that the temperature in the chamber is higher than -18 degrees, then this model belongs to the low-temperature BHP. Such freezers are labeled with two stars. Such refrigerators should have a temperature not higher than -12 degrees. All freezers that are equipped with a quick freeze function are equipped with compression refrigeration.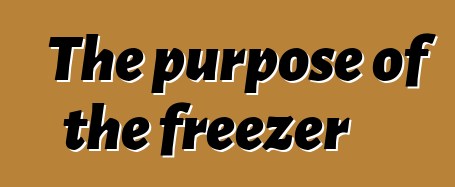 Home | Articles

December 1, 2023 18:10:28 +0200 GMT
0.043 sec.