Russian stove in your kitchen. How to choose an air grill
Since ancient times, dishes cooked in a Russian oven have been especially valued for their unsurpassed taste and aroma. Airfryer is one of the attempts to recreate the methods of cooking in an oven in a modern kitchen.
What is an air fryer and how does it work
An air grill or, as it was originally called, a convection oven is a household electrical appliance for cooking food in various ways using hot air flows, invented in the USA in the 80s of the last century and designed at that time to replace microwave ovens. The name "air grill" was first used in Russia in 1996 and has since become a household name for this kitchen appliance.
Externally, the air grill is a glass vessel-flask with a stand and a lid, in which a heating element and a fan are built. The heating element heats the air inside the flask to a certain temperature, and the fan evenly distributes hot air flows circulating in it and preparing the dish. Outside is the control panel.
Airfryer Advantages
The presence of the word "grill" in the name of our "hero" does not mean such a narrow specialization. On the contrary, this miracle device can partially or completely replace many kitchen appliances, as it can fry, brown, cook barbecue, replace a double boiler and toaster, create the effect of a pot or pot, and even make ryazhenka! There are also non-standard options for using an air grill - you can use it to smoke fish and meat, cook casseroles and pies, sterilize jars, dry fruits and herbs, defrost and simply reheat ready-made meals. Moreover, you can cook several different dishes at the same time, saving time and energy by placing several containers of any heat-resistant material inside the glass bowl.
It is important to note that you can cook on an air grill without adding oil and fats, the hot air cooking method retains a maximum of useful substances and vitamins in the products, so your dishes will not only be tasty and appetizing in appearance, but also healthy.
Airfryer cooks quickly: for example, you can serve a grilled chicken weighing 1 kg in 40 minutes after the start of cooking. Due to the transparency of the flask, the cooking process can be monitored continuously. As a rule, the device will notify you of the end of the work with a sound signal.
Airfryer functions. What to look for when buying
Although fundamentally all air grills are the same, they may differ from each other in the presence or absence of a number of additional functions and accessories.
The main functions of the aerogrill include:
Timer (present in almost all models, only the time of its operation can vary - from 1 to 24 hours with the possibility of a delayed start)
The already mentioned sound and light indication of the beginning and end of work
Ability to adjust the power (heating temperature of the heating element)
Fan speed adjustable
Cover type - removable or fixed with a special bracket. The first type is a little more convenient to clean, the second is more reliable and safe (less risk of getting burned from the hot surface of the lid or accidentally dropping it)
Self-cleaning function (present in expensive models)
Type of control (mechanical or electronic)
Number of cooking programs
As for accessories, they may include an additional nozzle that increases the volume of the flask, various coasters, tongs, spatulas and potholders for extracting ready-made dishes, a recipe book. Pay attention to the equipment of the air grill that you plan to buy.
Finally, some practical advice. Airfryer copes with some methods of cooking products specifically. To understand the intricacies of his work will help reviews and advice from the owners of aerogrills.
So, we found out that the air grill is a modern compact and multifunctional kitchen appliance for preparing many delicious and healthy dishes.
Bon appetit!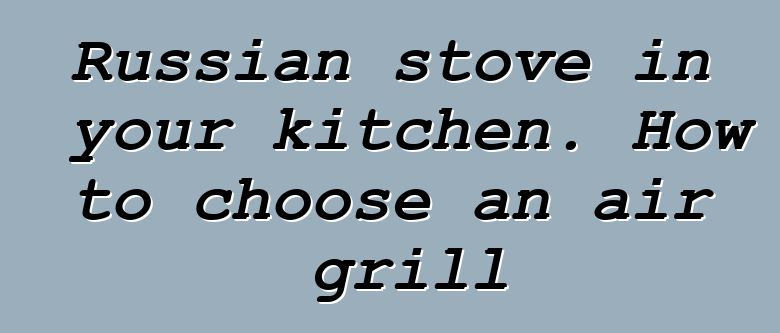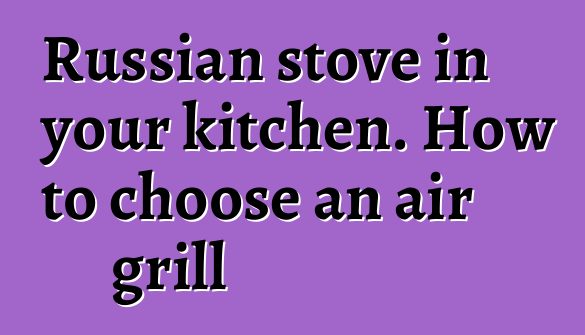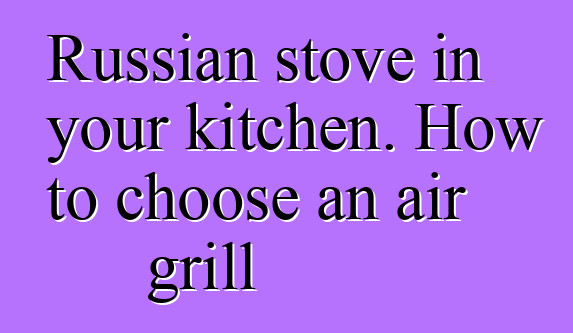 Home | Articles

December 3, 2023 15:55:15 +0200 GMT
0.007 sec.