Refrigerator installation
Naturally, before you start directly installing the refrigerator, you must carefully read the attached instructions. Only after that it is necessary to inspect all electrical wiring. There should be no signs of damage to it. If there are any, then it is best to call a specialist to eliminate them. In this case, there will be no problems with the subsequent warranty. Following this, it is necessary to establish whether the voltage in the network corresponds to those indicators that are acceptable for the operation of the refrigeration appliance. If there are large deviations from the norm, then it is best to use a household transformer in the operation of the refrigerator. During connection, the power cord must not be put under the refrigerator. This can cause a subsequent short circuit, and, as a result, a fire. To avoid such a nuisance, it is best to tie it to a capacitor. For this, ordinary twine is suitable.
In the event that the BHP involves grounding, it is necessary to install an appropriate outlet. All of them, both the plug and the socket, are equipped with three poles. In order for the refrigerator to work properly, it must be provided with free air circulation. The refrigerator works like a pump. The heat that is inside is pumped out and removed to the outside.
The outside is heated. The more the food in the refrigerator is cooled, the more the air in the room where the refrigeration unit is located heats up. Modern refrigerators have smooth walls. The coil in this case is quite tightly attached to the wall. It can be located both inside and outside. During installation of the refrigerator, it is necessary to leave a mandatory gap of at least five centimeters. Refrigerators that are built into kitchen furniture deserve special attention. It is also necessary to follow all the techniques.
Many modern models are equipped with automatic closers, but you can make them yourself. To do this, just set the refrigerator or freezer 2 degrees back. It is not recommended to install refrigerators near the stove or window. The incoming heat will provoke the heating of the refrigerator, and, as a result, a greater consumption of electricity. If another option is not possible, then it is necessary to place a screen with a reflective surface between the refrigerator and the heat source.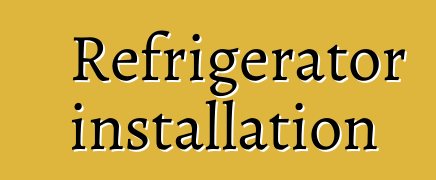 Home | Articles

November 28, 2023 18:04:37 +0200 GMT
0.008 sec.