Fancy refrigerators
In order to reduce manufacturing costs, some American firms use textured embossed steel in the manufacture of refrigerator doors. This allows you to make the refrigerator not only artistically attractive, but also to hide surface defects and give it a more expensive look. The use of a textured sheet made it possible for American firms to significantly reduce manufacturing defects in coloring.
The analogue of textured steel sheet (or tape) in Europe has become a cheaper film coating of ordinary steel sheet. The most common pattern is wood grain and stainless steel. Next to such a refrigerator must be the same worthy other household appliances. Housewives, who have seen from their own experience how convenient and practical it is, do not want to return to gas ovens in any way.
Refrigerators with artistic painting immediately distinguish them from other models. The drawing in this case can be stenciled on a film coating or made by hand at the request of the customer. Each manufacturing country has its own set of typical screen patterns that reflect national characteristics. In the manufacture of exclusive models of refrigerators, hand-painted art is used. As a rule, artistic compositions are created on a computer. The domestic manufacturer here had to abandon the production of such models due to limited demand. With individual orders, an author's work is created, which has no analogues. With the help of an airbrush, an ordinary refrigerator can be turned into a true work of art. Modern airbrushes allow you to work with several colors at once, providing almost photographic quality.
For buyers who prefer frequent changes in the decoration of the kitchen, refrigerators with replaceable decorative panels on the doors have been developed.
Some unusual refrigerators have not only the original color, but also the shape. Unusual here are the proposals of Japanese and Chinese firms offering children's refrigerators in the form of animals. In addition to colorful drawings, such models have a built-in electronic calendar and an alarm clock with an LCD display installed on the doors. When you open the refrigerator, a melody sounds.
The most expensive refrigerators are made of stainless steel. The most expensive design for refrigerators with mirrored doors. In addition, these are, of course, models inlaid with precious stones.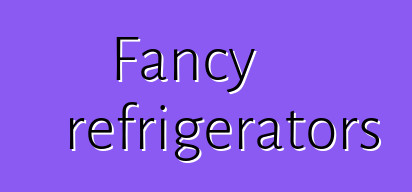 Home | Articles

December 2, 2023 14:16:18 +0200 GMT
0.007 sec.