Energy consumption of the refrigerator
Ergo-economy is one of the main parameters that you should pay close attention to when choosing a refrigerator. If, for example, we compare household appliances for home use, then most of all electricity consumption falls on this home assistant. Therefore, if the future owners of the refrigerator are thinking about future costs, it is necessary to choose a more economical model. The energy consumption of a refrigerator can range from A to G. The lowest energy consumption is in A. The highest energy consumption is in class G refrigerators. and 92/2ES. At the same time, the devices to which such a refrigerator may belong are determined. It is also necessary to determine the useful volume of both the refrigerator and the freezer. After that, it is necessary to determine the nominal value of energy consumption for a particular type of refrigerator.
In this case, it is necessary to take into account the energy consumption standards for this category. The nominal value must be taken as 100%. After that, it is necessary to determine how much electricity the refrigerator actually takes to work. Class "A" corresponds to an indicator in a value that is less than 55%. 75% corresponds to the class "B". 75%-90% belongs to the "C" energy class. 90-100% - "D". 100% -110% corresponds to the class "E". 110-125% speaks of the "F" class. All indicators that belong to more than 125% correspond to the G indicator.
But due to the fact that more and more new technologies appear, it is possible that the international classification will be replenished with one more indicator. This will be the "Super A" class. This type of refrigerator already exists today. Their energy class is much lower than the "A" class that exists today. As you can see, in reality it may be that the refrigerator consumes much less electricity than indicated in the nominal value. This can be ensured by high quality compressors, the best quality insulation, and other economical devices.
Each refrigerator is equipped with its own sticker, which tells about its ergonomics. It also indicates the theoretical consumption of electricity, as well as the useful volumes of the refrigerator chambers. The manufacturer can independently specify the degree of noise in his model.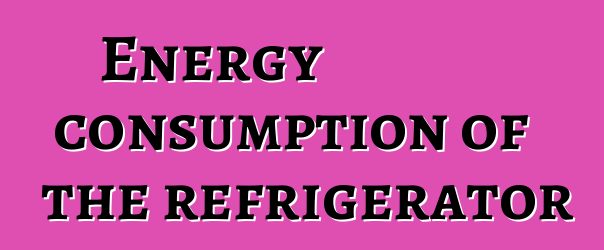 Home | Articles

September 29, 2023 04:33:30 +0300 GMT
0.007 sec.