Freezer ƒe dzoxɔxɔ
Zi geɖe ŋutɔ la, elektrikŋusẽ ƒe nutsotso ƒe ɣeyiɣi siwo medzea ame ŋu o nɔa míaƒe aƒewo me. Esia tae nu vevi aɖe si le nufamɔ̃a ƒe dɔwɔwɔ me enye ɣeyiɣi didi si wòate ŋu ana nuɖuɖu nanɔ nɔnɔme si wòdi me elektrikŋusẽ manɔmee. Wotsɔ dzoxɔxɔnutsitike nyui aɖe de nufamɔ̃ aɖewo me. Eyata woate ŋu adzra nuɖuɖu ɖo ŋkeke ɖeka kple afã elektrikŋusẽ manɔmee. Nufamɔ̃ si tso VESTFROST te ŋu léa dzoxɔxɔ si nɔa anyi ɖaa vaseɖe gaƒoƒo blaatɔ̃ vɔ eve. Nɔnɔme sia na be nàte ŋu awɔe le vuvɔŋɔli ƒe nudzraɖoƒewo ƒe gazazã me. Fafa ƒe nuƒoƒoƒu nye plastik briquette. Wotsɔa tsi si ƒe dzoxɔxɔ tɔxɛ ƒe ŋutete lolo yɔa wo me fũ. Ne fridzia le dɔ wɔm la, vuvɔ ƒoa ƒu ɖe wo me. Ne wotso elektrikŋusẽa ko la, wodzia ɣeyiɣi si woatsɔ aɖe tsikpe ɖa la ɖe edzi le wo ɖokui si. Briquette eve siwo sɔ kple wo nɔewo le nufamɔ̃wo me le woƒe kit me.
Wotsɔa LIEBHERR nufamɔ̃ (gaƒoƒo 40) ɖea dzesi si sɔ gbɔ wu fiana. Ele be nufamɔ̃ siwo me ɣletivi etɔ̃ kple ene le ƒe dzoxɔxɔ nalé -18 degree. "Anyigba vuvɔ" nye nusi ame geɖe lɔ̃na. Tiatia sia tsɔe be eya ŋutɔ ƒe fafamɔ̃ le aɖaka ɖesiaɖe dzi. Woate ŋu atsɔ nuɖuɖu ade tsikpe me le agbɔsɔsɔ ɖesiaɖe si li me, eye mehiã be woatsɔ wo tso aɖaka me ayi aɖaka me ɣesiaɣi o.
Ðewohĩ mɔ̃ si dzi wokpɔna la ƒe nɔnɔme ato vovo. Gake dzoxɔxɔdzidzenu, nukpɔkpɔ, nɔnɔme ƒe tɔtrɔ, kpakple amadedefianu le wo dometɔ ɖesiaɖe me. Amadede dama la fia nɔnɔme si me wole dɔ wɔm le; alesi wowɔa tsikpe kabakabae naa nyanya ɣie; ne amadedea biã la, efia be nufamɔ̃a ƒe ʋɔtru le ʋuʋu, alo dzoxɔxɔ si le eme la lolo ale gbegbe. Wokafui be woalé ŋku ɖe dzesiawo ƒe nuxexlẽwo ŋu kple dzoxɔxɔdzidzenu ƒe nuxexlẽwo ƒe sia ƒe.
"E" ƒe nɔnɔme fia be agba afã le nufamɔ̃a ŋu eye le ɣeyiɣi ma ke me la, wozãa ŋusẽzazã ƒe nɔnɔme. Le ŋusẽzazã gome la, mɔ̃ aɖewo siwo ŋu No frost system le la zãa ŋusẽ geɖe wu alesi woɖee fia le mɔzɔgbalẽa me. Nusi to vovoe nye LIEBHERR nufamɔ̃ siwo wobuna be womexɔa ga geɖe wu eye woxɔ asi wu.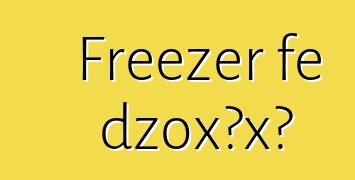 Home | Articles

June 2, 2023 04:16:02 +0300 GMT
0.007 sec.